Posted on
By Dane Folpp @dane_mtb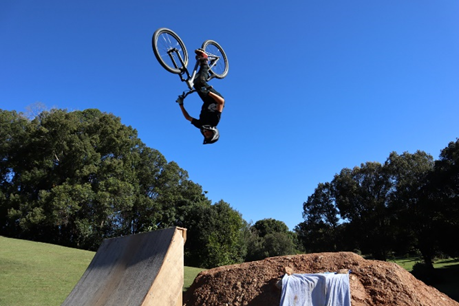 'A little bit about me'

2021 - A year I will never forget


By Dane Folpp @dane_mtb
I've always liked anything on 2 wheels; scooters, motorbikes, bicycles etc. and got my 1st new MTB on my 12th birthday in 2019.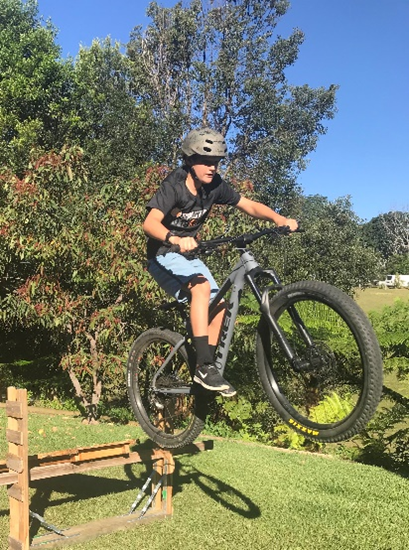 It was a Trek Roscoe 8 which I grew to love. Mum and Dad got one too, so that we could all start riding some tracks in the local area and this is where my passion began.
I spent a lot of hours with a shovel and wheelbarrow to make jumps and tracks at home and went street riding when it was too wet to ride in the mud. I just loved being outdoors and love the adrenaline and rush of riding. After riding a lot of the local trails I started to create my own green, blue and black trails at home. My Pop helped me build jumps and ramps out of old timber pallets and scrap pieces of wood.
After a while I was keen to get into enduro racing with my cousins @connor_mtb12 and @jacksonfloppmtb (mainly so I could see them and hang out riding) and Mum and Dad could see that my Trek Roscoe wasn't going to handle the wear and tear (because it had already had quite a beating). On Christmas day 2020 all my dreams came true! I got a dual suspension Canyon Torque CF 8.0 (which was my dream bike at the time).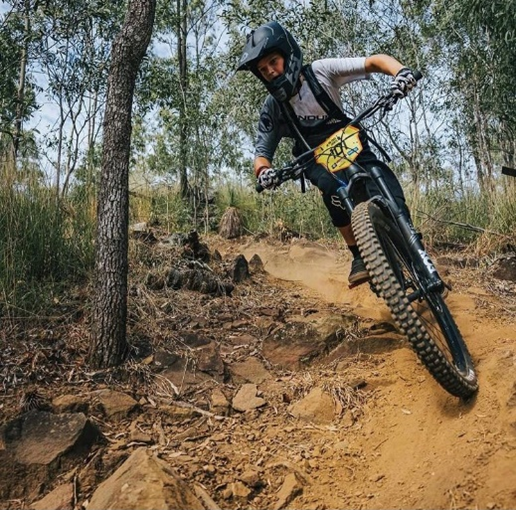 I was lucky enough to begin entering comps for the 2021 calendar (that weren't cancelled by COVID) and started to stand on the podium at each raceevent. I even managed to win the @whitelightningevents 'Gravity Enduro Series' overall champion U/15's. My confidence started to grow and my passion just got stronger.
My friend @willspeddingbmx suggested that I come to BMX lessons at @levelupskatepark with super coach 6 times X Games gold medallist @kylebaldock1.
I had an old BMX at home and although it was a bit rusty and worn, Will helped me change the pedals, replace the grips and give it a good clean-up.
I started BMX lessons on Monday nights with Kyle and he started to teach me all kinds of tricks. After each lesson, I would dream of doing these tricks on a MTB like the riders at Crankworx Slopestyle and Redbull Rampage.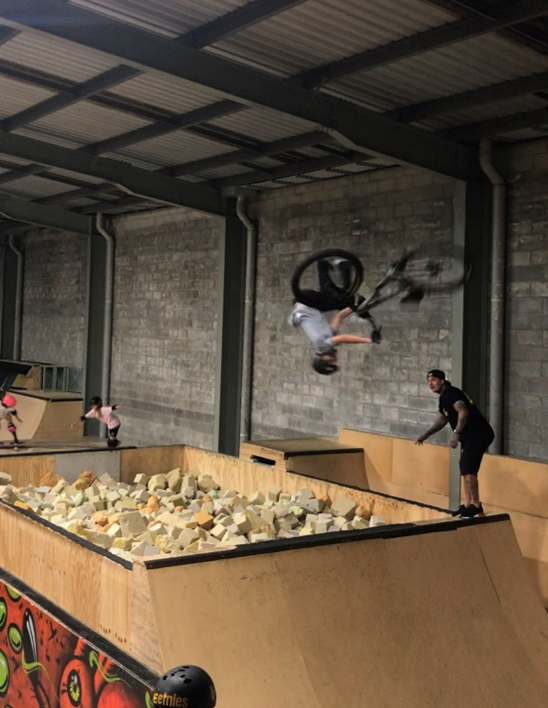 Kyle kept telling me that I have a 'big set of balls' because I was keen to give anything a go and he encouraged my parents to buy me a new bike as the old BMX was holding me back.
On my 14th birthday I got a Canyon Stitched 360 Pro. My first dirt jumper. WOW! This bike allowed me to combine the BMX riding with the MTB riding which is the best of both worlds in my opinion.
Kyle continues to coach me and has helped me achieve everything to date. He is the most amazing coach and it's great to have a friend like Will who pushes me and is as committed and dedicated to riding like me.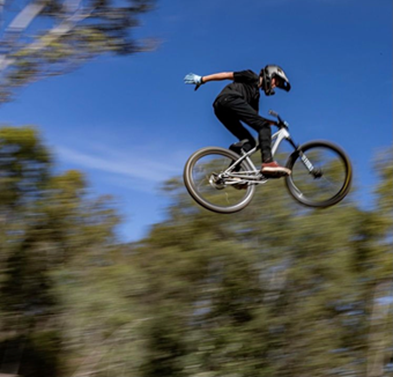 In April 2021 Dad and I build my 1st 7ft ramp. In July we went up to @kooralbynmtb for the Slopestyle Jam and this is when I got to ride a real line on my dirt jumper.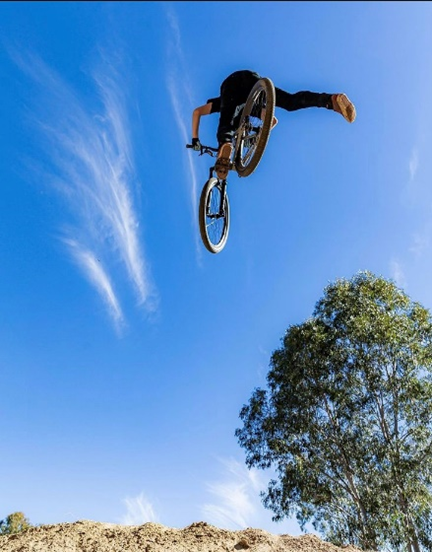 I got to hit some big jumps and try some of my tricks with big air. It's such an awesome and exciting sport.
Dad and I got some measurements for the 9ft ramp while we were there and in August we built my second ramp and hired a machine to mould a landing.
Home schooling was a dream come true for me because I could ride between classes once my work was complete and at the end of the day I could just gear up and ride. Shep (my dog) loved it too. Mum and I put together this edit from lockdown. https://www.youtube.com/watch?v=Z9ZoaRykSe4&t=19s
2021 is a year I will never forget. Murwillumbah Cycles offered to sponsor me and I proudly wear the @foxracingaustralia gear with Rachel's designs on them. Rachel, Jeff and their amazing team help me fix my bike and show me things about my bike all the time.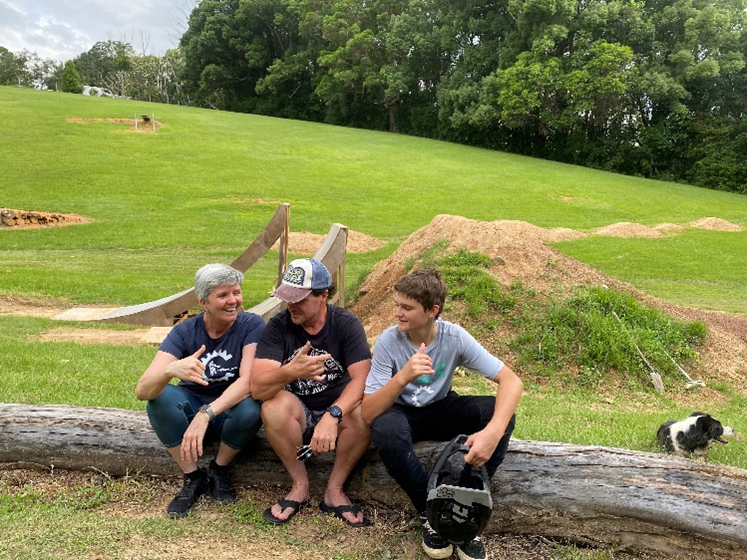 In November I was selected to represent @freshbmxaus and @fmxkaos at the Monster Thrill Masters Show at Sunshine Stadium. In November I also managed to get 4th place for the Australian Slopestyle Virtual Best Trick Competition Open Men's.
One day I hope to build and ride a TREK Ticket DJ bike and represent Australia at Crankworx Slopestyle and compete against riders like @johanssoemil.
I have been fortunate enough to meet @daveleslie7 the co-founder for the AST and like me, he is super excited about pathways into Crankworx Slopestyle for young riders like me. Mum and Dad do whatever they can do to support me and they are my biggest fans. Mum always encourages me to dream big and dad is my biggest motivator. Shep my dog, well he is just the best! This is an edit I put together for 2021 (a year I will never forget): https://www.youtube.com/watch?v=olQVNeFgtYc&t=4s
I am very excited about the 2022 race calendar (COVID permitting)
22-23 January Greenvalleys MTB Redbull Criss Cross
24-27 March Highline MTB Festival Slopestyle Speed and Style
7-8 May Greenvalleys MTB Slopestyle Event
17-18 September Kooralbyn MTB Festival